Rheem serial number lookup can be found by the looking at types of Rheem water heater. The warranty is based on the date of manufacture and usually, the warranty code listed in the serial number of the Rheem water heater. Before I tell you how to look up the serial number, let's take a look at the Rheem water heater first.
Rheem Water Heater
Rheem Company has been around for about 100 years, producing high quality water heaters. Each Rheem water heater has different length warranty, starting from six years warranty to fifteen years warranty (the top-line in Rheem water heater industry); all of which is Energy-Star certified.
The six years warranty Rheem water heater does not mean that your water heater will only last for six years only. The water heater can reach a life span of 8 years if you properly maintain the model. It is the basic model of rheem water heater that has a 6-year warranty on parts and tank. Although it is basic, the model is a fantastic water heater. The company also gives 1 year labor warranty. The six-year warranty needs annual maintenance to drain the tank to prevent harmful mineral dumps from forming and damaging the glass lining of the storage tank.
This water heater is the advance of the previous model that equipped with self-cleaning system and save more energy. Aside from having 10-year warranty, the water heater also has 1-year labor warranty and the life span of the water heater is to be expected around 10 years. No wonder that this Rheem water heater is very popular.
This is by no mean the most advance of the three. It has higher energy efficiency, self-cleaning system, metal and brass parts, and additional corrosion prevention materials (anode rod). The anode rod is installed to prevent the corrosion and glass lining crack. The warranty is 15-year long with 1-year labor warranty.
Locating the Serial Number
The serial number identification on Rheem water heater usually has ten digits, for example, 0898G01213. The first two digits are the month of the manufacture then follow by the year shown by the next two digits. The letter is the plant line code and the rest digits are the serial number. By looking at the serial number, you can know the age of your water heater and also confirm the water heater warranty limitation.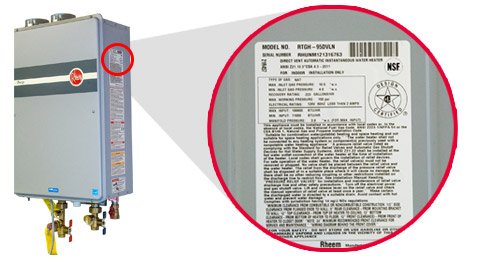 You can do the Rheem serial number lookup by determining the type of your water heater first, whether it is a tank type or tankless type. In the tank type, the model code and the water heater serial number is on the front of the water heater. If you have the tankless type, the rheem water heater serial numbers is located on the front or right hand side of the water heater.
To verify the limitation of your warranty, you have to know the date of the manufacture and the code listed in the number by doing Rheem serial number lookup. Related Keywords : RHEEM LOOK UP WATER HEATER SERIALrheem water tank look upwhat doed the serial number mean on rheem water tanks,