Do you know how to get rid of mushrooms in the grass? If you have had this problem before, or you are probably dealing with one now, don't worry.
There are several different alternatives to address the issue. It doesn't hurt, though, to know some of the different variants as well as different solutions to your lawn problem.
Mushrooms and Their Biggest Deals
Keep in mind that there are different kinds of mushrooms – some are harmless while some are pretty toxic. When you have mushrooms growing in your lawn, not only on the corners of the dark areas, it shows a good sign, really. It means that your soil is rich in nutrients that allow them to grow.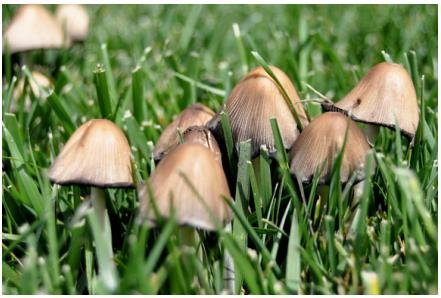 They may play with the mushrooms that are considered to pose higher risks. In some cases, homeowners want to get rid of the mushrooms because they aren't exactly visually appealing to the eyes and they affect the overall look of the garden.
Different Types of Mushrooms
Before learning about how to get rid of mushrooms in grass, it would be better if you know the different variants of the mushrooms. Garden mushrooms are different from forest mushrooms, and most garden mushrooms aren't dangerous. They are:
Meadow mushroom. This one has a white cap with dark brown gill (the inner side area of the mushroom cap). This is a non toxic mushroom.
Horse mushroom. It has white cap with a slight yellowish tint. The stalk is 3 cm wide with 12 cm long. It is also not toxic.
Death Angel. You probably can guess from the name that it is the dangerous kind because it is pretty toxic. Both the gill and cap are white.
Meadow Mushroom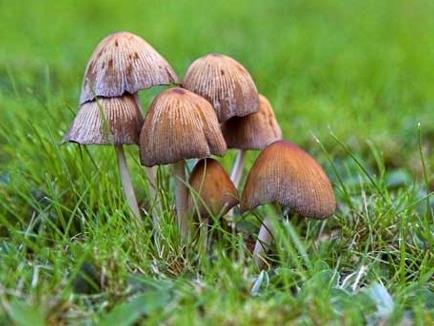 Horse Mushroom
Death Angel Mushroom
Dealing with Mushrooms
So, how to get rid of mushrooms in grass?
Check the surrounding condition. The mushroom requires an ideal environment to thrive and grow, and such environment includes plenty of humidity, lack of light, and enough moisture. If you live in the area where rain is plentiful then you can reduce the frequency of watering your garden. If you have a compacted soil, build an extra drainage system so any excess moisture can be removed from the soil.
This is one home remedies solution that can be effective for mushrooms but you need to do it carefully because vinegar can kill the grass, thanks to the acetic acid. This acid can kill the mushrooms and yet it can also kill the grass and other plants. Mix one part of vinegar with four part of water, and then put the solution into a spray bottle. When you spray the mushrooms, do it carefully and avoid windy days so the solution won't travel to other areas. If you are wondering about how to get rid of mushrooms in mulch, you can implement the same method.
It is possible for you to use a special fungicide. You may want to choose the organic type and you want the one versatile enough for black spots or powdery mildew. So, which method you choose from these methods on how to get rid of mushrooms in grass?