Pool equipment enclosure kits are perfect gears to beautify the look of your swimming pool as it can hide your ugly huge pump and filter. Having a swimming pool in your home yard is very refreshing especially when summer comes and the sun starts to shine its brightest light.
You can enjoy the sunshine by plunging refreshing your body in the swimming pool.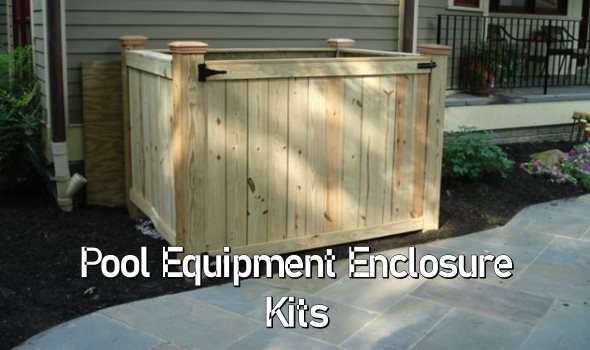 However, the view of your backyard is not good to look at with the presence of the pool's huge pump and filter. They show up every time you look at the window. They are very disturbing to your eyes, don't they?
How to Hide Pool's Pipe and Filter
So what are you going to do to make your backyard look good with the swimming pool along with its unpretty huge pipe and filter in it? Well, you can't get rid of those pipe and filter, can you?
As those huge pipe and filter are extremely impossible to be removed from your swimming pool, you need to think of an idea on how and what to hide those two things and also beautify your swimming pool at the same time.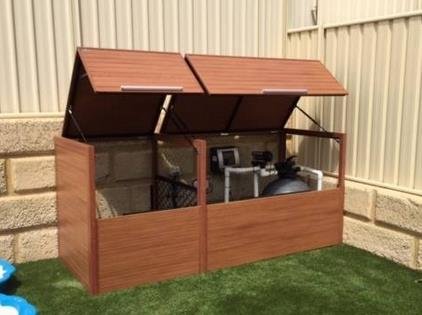 It's time to think of pool equipment enclosure ideas to hide the pipe and filter equipment, can be the enclosures and also transform the appearance and the view of your swimming pool all at once. There are some enclosure ideas you can try to hide your pool equipment.
The first idea is you can use plants, trees, and shrubs around your swimming pool but you must avoid thorny, irritating, large deciduous plants. Plants that have spreading roots that can destroy are also bad for your swimming pool. Avoid flowering bushes and trees, too, as they put stain on your pool.
These plants invite insects and flying creatures that can disturb your swimming time. You must plant low-litter, medium-height and evergreen plants, trees and shrubs. Choose plants that you can find in the area near you.
The next idea is using enclosure to put your pool equipment out of sight. You can build a pool filter enclosure by simply using flip-top box or decorative walk-in shed in order to cover the pool equipment.
This idea is an effortless, worthwhile approach to beautify your pool zone and backyard part at the same time. Use your creativity and woodworking abilities in choosing and building the perfect enclosure for your pool area.
Screens are also useful to hide your pool equipment. You can get the most privacy and perfect screens for your pool area by buying them from a home improvement. There is wide range of screen selections to cover the pool equipment and beautify your pool zone and backyard area all at once. Choose the one that is durable and reasonable for you.

So, it is not difficult to cover up the pool equipment and change the view of your pool area. Instead of getting rid of the equipment, which is impossible, you can select the perfect pool equipment enclosure kits to not only hide the pool equipment but also beautify the area of your pool.

Related keywords :
pool equipment enclosure kits,Pool Pump Equipment Enclosure Kits,pool equipment enclosure,pool pump enclosure kits,pool equipment noise enclosures