An unpredictable power outage can be so annoying, especially when we work with HF radio. A portable generator is a solution for us to maintain our work even though our house gets power outage. For those who work with HF radio, the Honda EX1000 generator is your best choice to maintain the power supply.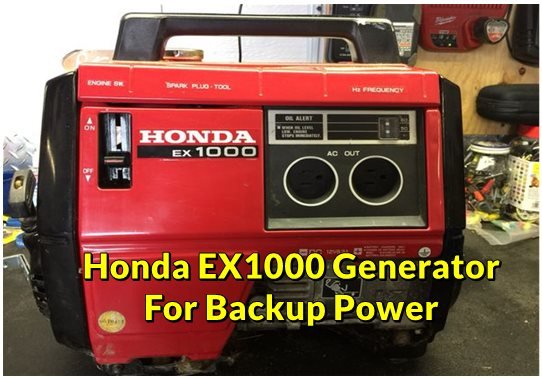 Honda EX1000 is also perfect for outdoor activities such as camping. This article will tell you why this type of generator is an essential item for the house. Have a look at this simple review for its specifications :
Fuel capacity
The capacity of the fuel tank for EX1000 is 0.8 gallons. It can run for approximately 3.8 hours on one tank full. This generator may look less efficient compared to the other generators. Still, when we see its power output which can give maximum load to 1000 watts for AC output, we might have to change our opinion of a less efficient generator.
It even has a fuel meter and oil alert so that the owner will know when the right time to refueling the generator. Honda portable generator EX1000 requires gasoline as its fuel. The generator has a switch to control the valve to open or to close.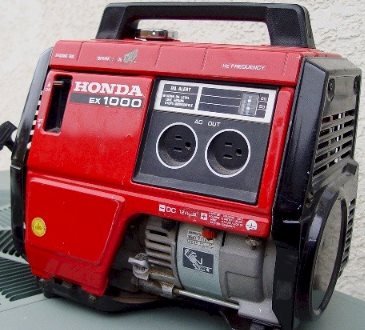 Power output
EX1000 generators from Honda can deliver the power to AC output maximum load, 1000 watts. The power is enough to keep on HF radio for quite a while. It may also adequate for other appliances when you don't use the generator for your HF radio.
Weight and portability
Honda EX1000 weighs 57lb. It is quite light, which allows you to carry the generator with one hand. By that, it means you can carry the generator wherever you like, and you don't have to haul it like hauling a bull.
Honda EX 1000 Specifications :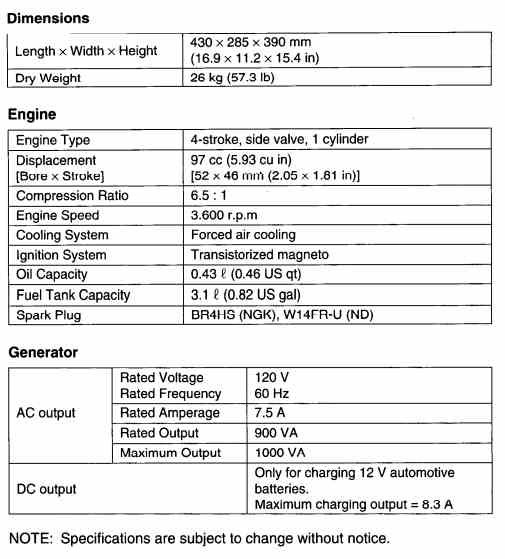 User convenience
The generator does not need a stronger armor skill to start the engine. It has electric ignition that makes it easier to switch it on or off. The generator allows AC/DC to be used simultaneously, though there are also AC/DC circuit breakers in the system.
Durability
EX1000 has a solid metal body that protects the delicate inner system and resists any denting. Looking at its solid metal body, we can rest assured that this generator may last for a long time.
The manufacturer
Who doesn't know Honda? This Japan's company is famous worldwide for producing high-quality engines, including car's engine, motorcycle, and now the home backup generator. Therefore you don't have to be worried about the quality of the Honda EX1000. This generator does not need constant maintenance that would annoy busy people who don't have enough times to do maintenance care.
Additional feature
Portable generators are famous for their disturbing noise, including Honda EX1000. The specification said that the level of noise for this generator is 64 dB. Some people reviewed that EX1000 is noisy, but the people reviewed that this generator is relatively quiet compared to other generators.
The manufacturer has taken precautions for this noise problem by fully enclosing the engine to be much quieter for working with HF radio. For more details also you can check at honda ex1000 generator manual.