Are you looking for a perfect generator to be used outdoors? Well, the Honda EU6500is generator can be the answer to your prayer. Before we discuss more about that generator, let's have a look at the following tips when you want to use the generator at home and why it can be dangerous when you use it indoors.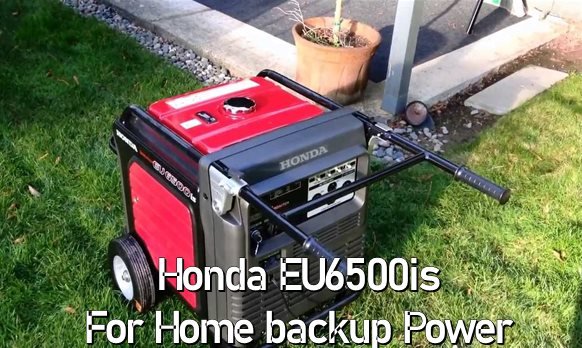 Generator Usage at Home
When you want to use the generator at home, it is essential to follow the directions supplied with your generator. Commonly, the ultimate hazards to avoid when you are going to use the generator at home are CO or carbon monoxide poisoning from the electrical shock, exhaust of toxic engine fire, and electrocution.
Many people die almost every year because of false portable generator usage.
Why using a portable generator indoors is dangerous
Indoors here are including the basement, carport, crawlspace, garage, and other partially enclosed or enclosed areas even though it has ventilation. It will still not help even though there are opening windows and doors, or fans will not avoid the carbon monoxide buildup in your house.
Your generator will rapidly produce the CO that will be death and incapacitation. But still, you can't see or smell carbon monoxide. The possibility of being exposed to carbon monoxide is high even you can't smell the fumes of exhaust.
If you start feeling weak, dizzy, or even weak when you use the generator indoors, what you have to do is get fresh air immediately without hesitation!
Why choosing Honda EU6500is?
It is such a powerful generator that it will be perfect for backing up power in your home. It is also useful to back up power for outdoor events, as an RV Generator, and more.
It can be used for many kinds of appliances. The appliances include a TV/DVD, microwave oven, sump pump, furnace gas, fuel oil and fan, RV air conditioner, hairdryer, computer, coffee maker, blender, garage door opener, portable fan, incandescent lights, and many more. It is also good to be a portable generator that can be carried for outdoor activities, including camping.
It can operate 52 to 60 dBA that can produce less noise or super quiet.
It is completed with fuel injection technology and smart electronics that will increase fuel efficiency. It can also eliminate the choke of the engine and reduce the carburetor problem related to the fuel.
Honda GX390 engine is designed with superior performance and long life.
It is advanced with the technology of the inverter. It can be reliable power for sensitive equipment, including computers.
It offers the efficiency of fuel thanks to a system which is called as Eco-Throttle System. It can run between 6 up to 18 hours in one tank. It can make great power that can run overnight.
T has convenient and comfortable handles that can be lowered for compact storage and raised for transport.
Honda EU6500is generator will be the right generator for you for outdoor activities that require quiet noise. It will also be a great generator for backup power!