Generac natural gas generator is a great choice for those who look for the comfortable, secure and also convenient generator. It is a permanently installed generator that will automatically protect your home. It works with liquid propane (LP) or natural gas as the fuel. It should be installed outside home like the central unit of air conditioning.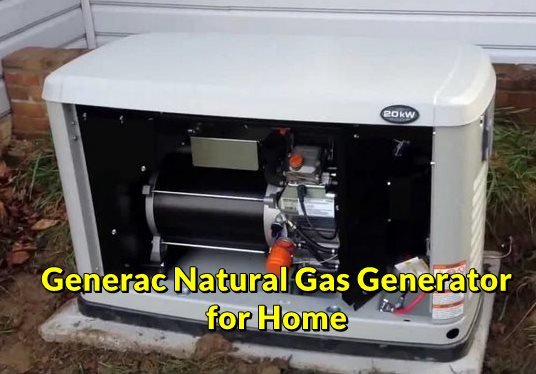 Whenever needed, the backup generator will directly deliver the power to the electrical system of your home. It will provide the backup power for the entire home or only the essential items, for smaller backup power you can choose generac portable generators.
Automatic Generator Operation
Whenever the electricity connection inside home is off, you don't have to go outside to turn on the generator and then turn it off again when the electricity is on. The home generators natural gas from generac will automatically run as needed; even when you are away from home.
No Refueling and Extension Cord Needed
With the available LP fuel or natural gas supply at your home, the generator will work providing home backup power to your home. It means that you don't need gas cans, neither refueling the generator. Besides, you also don't need to install the extension cord through the door or window. The generator will become the home backup that provides power to the electrical panels at your home.
Best Selling Generator with All Time Customer Support
As a home backup power generator, Generac generators are chosen by many more people today; 7 of 10 homeowners prefer to purchase it rather than the other generators for the convenience, comfort and security.
Furthermore, Generac also provides great customer support on 24/7/365 basis. It is because they understand that power outages are not the things needed from 9 to 5 only, but maybe every time.
That is why Generac is always ready to answer any complain and questions of the customers from their headquarters in Wisconsin.
Tips to Choose Generac Generators
Purchasing Generac gas generator with a reasoanable prices is always a great investment. That is why you have to have an informed decision before purchasing it.

How big of a generator do i need ? Choose the right size of home backup generator to fulfill the needs of your home. You can consult the dealer of Generac to find some assistance in choosing the best generator. The dealer will also give you their free assessment at home.

All of the installation preparation will be done by the installer from Generac. He will install the generator outside home, run the gas fuel, connect a transfer switch, and then connect it to any needed electrical connections. Before finish the works, the installer will check that the generator works well and ready to deliver power outage for the first time.

Find to know the most suitable size of generator for your home by using the interactive sizing guide and then find the exact cost through the free assessment from Generac natural gas generator dealer at home.

Related keywords :
generac home generators natural gas