Are you looking for information on Generac portable generators? Aside from Honda, another portable generator manufacturer is well-versed in manufacturing generators, and that company is Generac.
Generac is a company that has been around since 1959, and they have been going strong up until now. They took pride as the first company that manufactures affordable home generators, and if you ask my opinion, they did deliver on that front.
Today's article is all about portable generators, and Generac has that particular kind of generator. Surely their generators are the best. After all, they are the number one generator manufacturer in the United States of America. Heck, they even bravely put the title 'The #1 name in home backup generators.
Doing that needs courage and experience, and if courage and experience do not assure you of their generator's quality, then I do not know anymore.
To stay relevant with today's topic, let me tell you about the Generac generators. Generac categorized their portable generators according to their usage, and those categories are portable generators for backup power and portable generators for work. Continue below to know what Generac has to offer.
Generac generators for a house backup power
When the light goes off, you cannot do much but wait for the power to go back on, right? Wrong.
Just buy one of the Generac generators especially crafted for your house. With a Generac generator, you shall not worry about not having electricity whatsoever. If the power goes down, pour some fuel in the generator, turn it on, and plug it into your important appliances in your house (very easy, yes.).
However, many power generators offer just that. What makes Generac generators different is the fact that many of them could be powered with liquid petrol. If you do not understand what liquid petrol is, liquid petrol is an alternative to gasoline.
Compared to gasoline, liquefied petroleum gas (or LPG for short) is cheaper and safer for the environment. You do not have to worry about ruining the environment with LPG, and getting LPG is straightforward at the moment.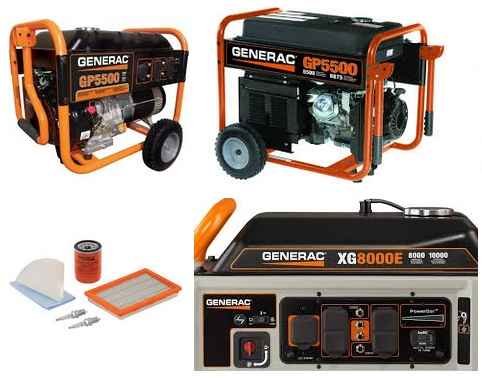 LPG is the energy source of the future, and by using a Generac LPG generator, you will 'futurize' the world and save from the bad energy source that is gasoline. Cars use LPG, your stove use LPG, why not your generator?
Generac generators for industrial usage
Generac offers generators that could go until 17,500 watts. For houses, that might be a bit overkill, but for an industry, that is nice. The biggest power tool could be used with a Generac industrial generator, and even then, the generator could use LPG, gasoline, and diesel.
An alternative could be good, and there is nothing better than three alternatives for your generator power source.
Of course, and do not have to worry about Generac portable generator parts became terms of maintenance and troubleshooting use; it is straightforward to get, buy parts online or even offline.