Inclement weather can cause the power outage in our house as well as the failure in electrical grid. It could be hours or, worse, days until we get the electricity back. Therefore having home backup generator is a good decision especially for having Generac natural gas generators.
The moment you get power outage, Generac generator will restore the power in the house just within seconds. What else that make Generac generator is a must have item in the house? Have a look.
Permanently installed
While most home backup generators are portable, Generac generators are permanently installed outside the house. That way you don't have to haul the generators outside and in the dark. Since Generac generators don't use gasoline and it is permanently installed outside the house, you and your family will be safe from carbon monoxide poisoning. You could install the generator by yourself because each generator has comprehensive instruction manual in its package, but for safety reason it is recommended to use licensed contractors to help you installing the generator.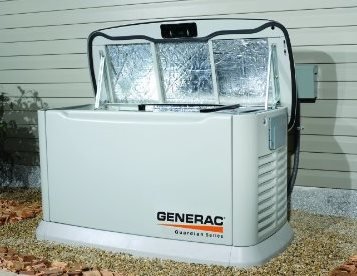 Automatic operation
You don't have to turn it on once the house's power was down. The system will automatically start to restore the power in the house immediately after the power outage, and it will maintain sending the power until the utility power has returned. Home generators natural gas will automatically shut off the system once the house's power is back.
Don't need refueling
Generac generators don't have gas tank because it runs on natural gas supply. You don't have to refueling the generator from time to time. The generator can deliver the power to the entire house or only to particular appliances in the house for days, of course different with generac portable generators.
Deliver power directly to the house
Not like other generators which need an extensive cord to connect the generator with the appliances, Generac generator delivers the power directly to the house through the electrical panel circuits. Therefore any appliances which are hard wired to the circuit can run perfectly in power outage situation.
The most recommended generators
When you browse through internet to search the reviews of home backup generators, you will notice that most reviews had mentioned Generac generator as one of the best home backup generators in the market. It is recommended for every homeowners to have this great generator in their house.
The most cost-effective generator
Home backup generators from Generac indeed have higher prices than the other generators, and the cost will increase more when you include the installation cost. However, Generac generators work are really effective to restore the power in the house, not only for hours but also for days. Therefore it is safe if we say that Generac generators are the most cost-effective generator in the market.
24/7 protection
This amazing generator don't need someone to turn it on and off or to monitor it during the power outage. The generator will work properly whether you are in the house or not. No matter when the power outage is happened,
Generac natural gas generators will be ready to bring back the high-quality power to the house, you can call technical support if there are generator problems and dont worry about generac generators parts because its very easy to get. Incoming from Google :
gas generac,how good are natural gas generac generators