If you need generator for any occasion, honda power generator is offer you wide range selection that suit for your requirement. No matter your occasion, whether you are looking for portable generator for outdoor activities, home power outages generator, or for your work generator in industry and construction.
Honda portable generator provides you with wide range selection of size, type and model in varies budget that suit with your needs.
Small size, portable power generator
For you who are looking for portable generator that compact, portable and do not requires too large electricity volt, then you can choose these several types of power generator to pick.
The first option is Honda EU1000i. This power generator is perfect for emergency use especially for your essential electricity such as TV, fans, light and other small electricity tools. It is super quiet when in use and the weight only 29 lbs. It just needs 120V and 1000 watts. This generator fuel efficiency is up to run 8,5 hours with only 0.6 gal of gas use. If you have computer, this is right option for stable power.
Honda EG2800i Generator. This is second option for lightweight, super quiet and portable choice that perfect for home use. it use 2800 watts and 120V engine system that result quality power for your sensitive equipment such as laptop, TV and electronics.
Honda EU3000i Handi is the lightest honda generator 3000 has been created for 3000 watt inverter generator. It has wheels and folder handle for ease portability access. It is easiest for lifting.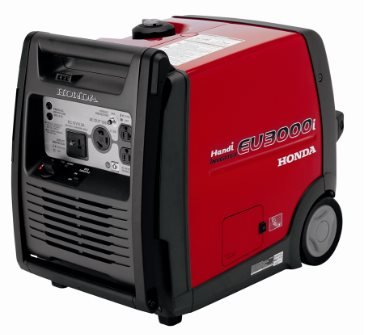 Medium Size Generator power
For medium size generator, there are several options for home and commercial use. This EU3000i offer you 3000 watts, 120V and available for power up furnace, microwave and more. The sound is quiet with convenient electric starter.
This generator has fuel efficiency with 3.4 gal of gas and available to run up to 20 hours. Next option is EU7000i that perfect for medium and big size home using.
This generator will available for your home power outages backup, outdoor events and party, and many more. It gives you run up into 18 hours with 5.1 gal fuel. With fuel injected gives you better fuel efficiency and it also low maintenance.
Large size generator power for commercial use
This Honda generator is purposed for commercial use and available in range of watts and engine rate. For you that have commercial store, or servicing agent that requires generator, these type can be your idea to buy.
Honda power generator EM6500S is powerful Honda engine generator that perfect for commercial use. This generator has electricity starts and recoil backup for easy power up. The power result 7000 watts per 10 seconds to power up large equipment include fridge, well pump, and many more. This generator can live up into 10.4 hours with full fuel.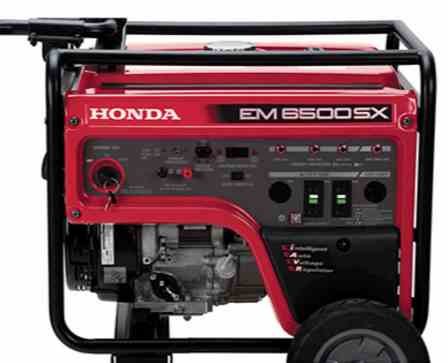 Honda generator EM4000S. This generator is available to run up 16 hours and provide 5000 Watts /10 seconds for starting large equipment. The systems honda power generator are able to set in 120V and 240V depend to your requirement.