While there are wide options of paints, only specific types of paints can be used for painting on glass. Glass is a material with non-porous characteristics that make the surface smooth, and nothing appears to stick on it. There are not many materials that can stick to glass for a long time, even with good preparation. So, what kind of paint use on glass?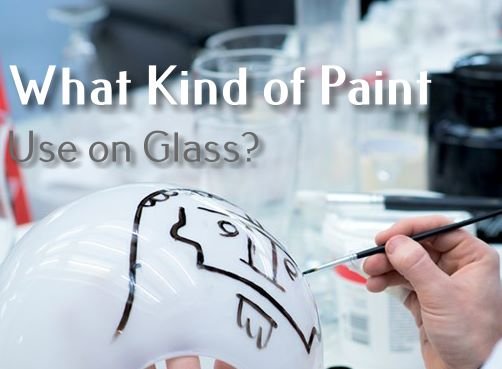 What Kind of Paint Use on Glass
The most recommended types of paint that can be used on glass are the ones that are specially formulated for glass applications. Among the majority of glass paints available in the market, the most popular varieties you may get are acrylic and enamels paints.
Whether you want to use acrylic paints or enamels, both have their own pros, depending on several factors. There is also acrylic enamel paint where it works best on glass. If you are looking for permanent glass paint that produces more vibrant colors, this one is the best selection, although it's not the easiest to work it.
What Kind of Spray Paint Use on Glass
A glass jar is relatively easy to decorate with spray paint. It can be a satisfying craft to give your living room some colors. If you want to have some painting activity but crave some different medium, then glass is one of the most recommended to help you create an exceptional craft. Yet the question is, what type of spray paint is best for glass jar painting?
This is one of the best spray paints that provides full coverage. If you want to give your glass jars with background color before adding other decorations, this is the one that works best. It covers the entire surface of the jar smoothly, and it only takes around ten minutes to dry.
There are not many paint products for glass that can last for a long period of time. But this spray paint will remain impeccable even for months to years. It's an ideal paint for bathroom or kitchen windows as it is semi-transparent where you will still get natural light although you can't look through the glass.
Design Master Spray Paint
This glass spray paint is specifically designed to make decorative crafts. It contains something that will make an ordinary object like your old glass bottles look sparkly and shiny. The good thing about this paint product is that it can be applied evenly over the glass surface, and when you lightly spray it, it only takes around 30 minutes to be completely dry.
Glass painting is typically a task that doesn't require too much effort. However, the actual question is what kind of paint use on glass to get the desired results? Will it be last for an extended period of time? When you wish to have a painting project that can last a lifetime, it's best to focus on quality rather than quantity. Knowing some essential information will also help you to get the wanted results.