Many homeowners often ask about how to make a drop ceiling look good. A drop ceiling is one of the best types of ceiling when it comes to tall houses. It makes the ceiling look more than one-dimensional, and surely it keeps the look of the house interesting. This is everything you should know about the drop ceiling and how to make it look as interesting as possible.
Drop Ceiling Tips to Make them Look Good
These are some of the best things you can do. These are all written here, so you will no longer wondering about how to make a drop ceiling look good. The ideas are clever, and you should always consider them when repairing or building a house.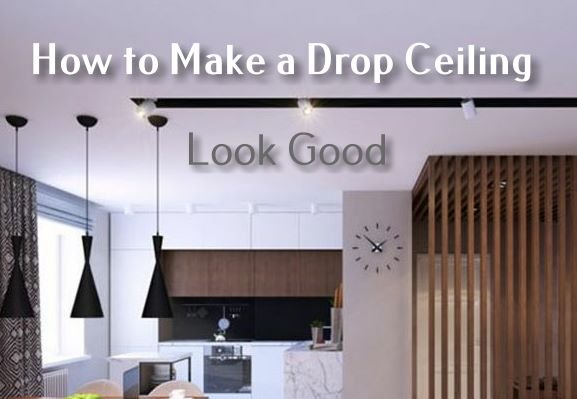 Choose the Right Drop Ceiling
There are tons of creative drop ceiling ideas you can choose from. Most of them are using different types of materials and styles. You need to choose the right one. If most of your house structures are made out of wood, you may want to choose a wooden drop ceiling with wooden stripes or board. You can also consider metal faux and other materials.
Mind the House Theme
Well, the house theme should be in harmony with the ceiling. Say, for example, if you have a rustic house, the wooden drop ceiling will be the best choice. Or, if you have a contemporary house with modern material, you should choose the drywall or even vinyl material to use.
Mind the Height of the House
Keep in mind the drop ceiling will reduce the height of your room, at least visibly. Therefore, you will have to make sure the room is tall enough to be given a drop ceiling. Or, if your room is not actually that tall, you can always consider drop ceiling alternatives, including the good old-fashioned drywall ceiling with patterns. They are as good as prettier on the look as well.
Select the Right Lighting Features
You need to select the right lamps and light features for the ceiling. The chandelier is probably good, but if it is too much for your house, you will have to choose something else, like simple ceiling sconces or a long, neon lamp.
Keep it Simple
You can do several things to make sure the drop ceiling is looking good right from the very beginning. However, keeping it simple is probably the best way. It will keep the ceiling from looking too extravagant and not so pretty on the eyes.
Those are the best things you need to know when considering a drop ceiling as the tool to enhance the look of your house. It looks great, of course, and all you have to do is considering those tips above, then you can make the ceiling look great. The answer should be found above for those who are still wondering how to make a drop ceiling look good.