There are some strict regulations about dirt pad for mobile home, especially in several states and several cities. The regulations are created and made because it is considered crucial to pay attention to this factor if the house is built and set up.
In most cases, you want to have a solid platform as the basic foundation of the house. Without it, the construction is prone to damage and even collapse, and you certainly don't want that happening to you.
About the Mobile House Pad
Some areas call it mobile home concrete pads because it is made from concrete. In other areas, it is called the slab – or to be exact, the slab on grade foundation.  This kind of foundation should be properly and correctly planned and poured into supporting the construction.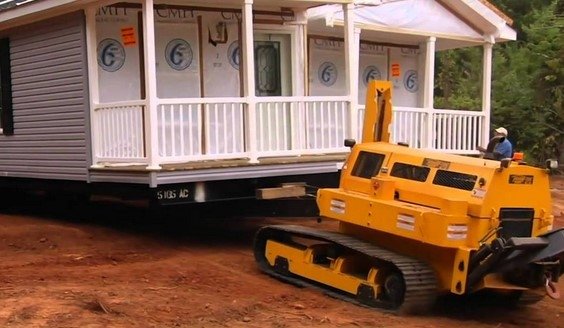 One of the major crucial aspects of this pad construction is known as dirt work. Also known as the subgrade preparation or the sub-base, this dirt work will ensure that the slab will be evenly installed and will not fail. To achieve the desired result, you must first use the topsoil before you finally fill it with subgrade and then compact it.
Will you be able to make this dirt pad for mobile homework on your own? Well, unless you are a professional contractor, unfortunately, you need to hire a professional service to help you with this work. You also need to check with the local legal regulation and formality.
How to Manage the Mobile Home Pad
Here are the ways for you to plan and manage the dirt pad for mobile home construction?
Check the local building and construction codes. The legal regulations generally have several requirements, especially about the slab pour or preparation. Placement and setback are generally included within the process. In most cases, don't be too surprised if there will be an inspection for the concrete pour and base preparation.
The process needs to remove the topsoil and vegetation. Depending on the soil type and the height and thickness of the planned slab, there will be a determination of which much subsoil should be removed. If it is sandy soil, you only need to remove only a little. If it is rich in clay or loam, you need to remove several inches and then have gravel or sand mixture as the replacement.
The compacted process should begin – it can use machines or hand tamps. This process will also fill in the low spots.
Stakes are pounded in each corner and several feet. And then, a measurement will be done to make sure that it is level.
If some fixes are needed, import the fill for the high or low spots.
It is crucial that you talk about the process, including the needed materials, to do this project. Choosing a reliable service is also crucial to ensure that dirt pads for mobile home work will run smoothly.