The thermostat is a device component that works by regulating temperature. However, some thermostat models also can control humidity levels at indoors. Humidity can affect comfort and HVAC performance during seasons with extreme weather.
For example, the humidity level inside your house may turn unbearable during summer if the humid air is not removed. Below, you can learn more about the Honeywell thermostat with humidity control that may be able to help you manage the indoor humidity and enhance the comfort of your home.
Best Thermostat with Humidity Control
As mentioned before, some thermostat models come with a built-in humidity control feature. This ability helps create an ideal and comfortable indoor climate and reduces the number of utility bills.
According to the manufacturer and model, how the humidity control is set on each thermostat may vary.
Still, in general, most of them can be set by scrolling down the menu using the available button and arranging the humidity level as desired. Some other models may use the touchscreen display to determine the preferred humidity level.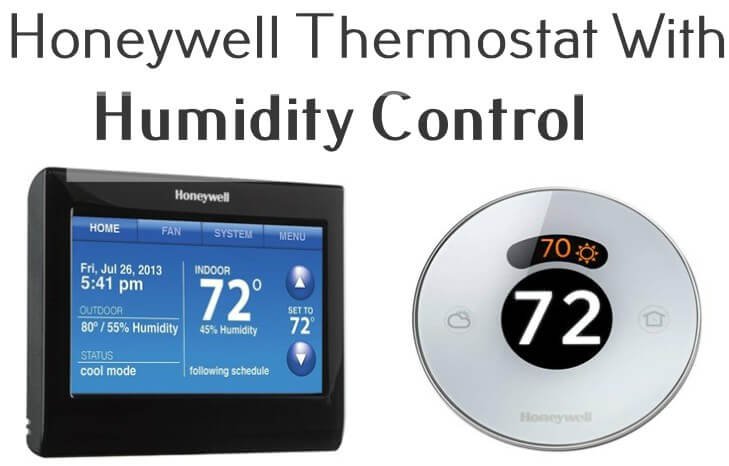 Similar to the indoor temperature settings, the quality of air and occupants' comfort is also impacted directly by the relative humidity level inside.
This is an aspect that homeowners often underestimate, but too high or too low humidity may be the culprit of various health problems and can be harmful to goods inside your house. Moreover, it may cause discomfort even if the temperature has been set correctly.
Here are two models of Honeywell thermostat with humidity control features available aside from temperature management:
The RCH9310WF
Honeywell RCH9310WF is a thermostat model with the 'Humidity Readout' feature, which allows you to view and arrange the indoor humidity level. Other features from these advanced thermostat models include automatic heating or cooling temperature adjustment, air quality control inside of the house, including ventilators, dehumidifiers, and humidifiers, along with a smart push alert that reminds you to change the filter or notice the extreme temperature at the indoor area.
The RCH9300WF
Honeywell RCH9300WF is a smart thermostat that can automatically measure and adjust indoor temperature and humidity to provide comfort. It is supported by Home App by the manufacturer, allowing users to manage their thermostat device using one connected platform from anywhere they are.
This app also provides a smart notification that reminds you to change the filter or notice the extreme temperature in the indoor area.
Old Honeywell Thermostat with Humidity Control
Even though most newer thermostat models nowadays are provided with the ability to control humidity levels, it is pretty challenging to find old models that carry the same feature. At most, you can only find an old Honeywell thermostat that can measure the humidity level but not adjust it.
Even so, if you have older thermostat models or planning to purchase one, you can set the device to select the temperature one or two-degree cooler than it is supposed to be. Running the air conditioner to pump cooler air will similarly affect the dehumidification feature.
That being said, it's still highly recommended to buy a newer and more modern thermostat instead. Newer ones typically run the HVAC system more efficiently. If your current thermostat device or the one you aim to purchase is older than a decade, then you will find better luck by buying a programmable thermostat.
Even if the one you have now is a programmable model, using an upgraded unit will help to save an immense amount of energy.
There are plenty of models of smart Honeywell thermostat with humidity control features. However, other factors to consider, such as connectivity ability, ease of installation, and many more.