Some Honeywell thermostat models run by using a battery and some are not. If your thermostat has an LED display, there is a big chance that it does. Similar to devices that use batteries to operate, the battery needs to be changed in a certain time period.
Here is the tutorial of Honeywell thermostat battery replacement if you have no idea how to do it.
Honeywell Thermostat Battery Replacement
When you find that your Honeywell thermostat battery low and you need to replace it, it's necessary to know about the model first. In general, you can locate the model number that's imprinted on the front or back part of the device. Besides, it's also accessible from a digital interface.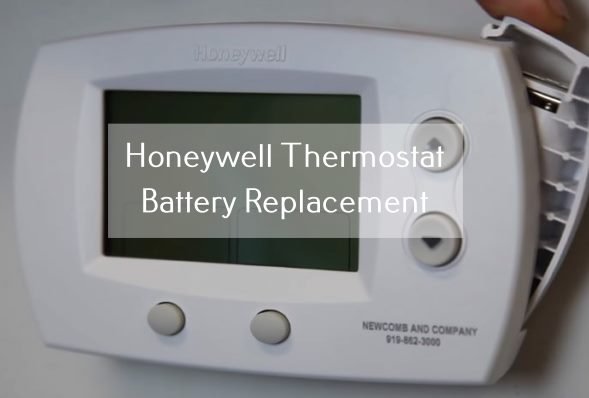 The majority of Honeywell's thermostat is comprised of the cover plate and base plate. The base plate part is fixed on the wall, and on the top is a cover plate. The most basic and general way for Honeywell thermostat battery replacement is to turn off the device. The cover plate must be pulled off from the battery compartment so that you can replace the battery.
Some thermostat models require AA or AAA batteries. Read about the steps you need to do if you're going to replace with a new battery:
Honeywell 4000 series
4000 series include Th4110D and TH4210D models. They will flash "REPLACE BATT" when the battery needed replacement.
Remove the base plate by pulling the bottom part of your thermostat device
After it is removed, turn the device over and put a couple of new AA batteries inside
Put the thermostat back in its original place
Honeywell 6000 series (TH6110D/ TH6220D/ TH6320U)
6000 series include TH6110D, TH6220D, and TH6320U models. They will also flash "REPLACE BATT" when needed to be replaced. For the 6000 series model, it is recommended to change batteries every year.
Press the battery holder that's located at the top right part and then pull to remove it
Put inside a couple of new AA batteries, then place back the battery holder.
You do not need to reset the day and time setting if the batteries are inputted in two minutes.
Honeywell 8000 series
8000 series include TH8110U, TH8320U, and TH8321U models. They will flash "LOW BATT" when the battery needed replacement. For the 8000 series model, it is also recommended to change batteries every year.

If your Honeywell thermostat says low battery with new batteries, then you might want to reset the system. If a simple reset won't do, the cut its power, and the device will reset itself.

Now, there are some possible reasons why your Honeywell thermostat battery replacement not working. First, the battery polarity might not match with the compartment inside the thermostat. Second, your battery might drain, so try to use it in another battery-powered device.

When your device starts to flash low battery sign, there is 60 days period to do Honeywell thermostat battery replacement. After 60 days pass through without any replacement, the device might be drained of energy and stop functioning altogether.

Related keywords :
should the pilot light flame touch the thermocouple on a fireplace