In fact, removing vinyl floor tiles from concrete is often asked by those remodeling or renovating the house. They sometimes need to change the entire flooring and usually change the tiles as well. When the base is concrete, and the tiles are vinyl, removing the old tiles will probably be a bit harder. This is how you handle the whole situation.
The Ultimate Tips of Vinyl Floor Tiles Removal from Concrete
To make sure the old vinyl floor is entirely removed without any fuss, you need to do these tricks. These are the methods that can help you remove the floor with ease, and you should replace the entire flooring. Without further ado, you need to do what you need to do when it comes to removing vinyl floor tiles from concrete.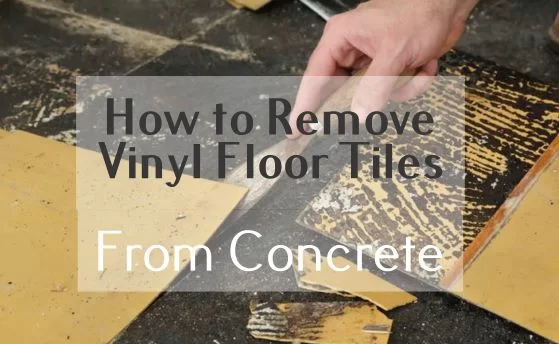 1. Remove the Vinyl Tile with Heat Gun
A heat gun is great when the vinyl is basically glued to the concrete. This gun will melt down the glue and help the old vinyl layer to get peeled off easily.
Besides heat guns, usually just ripping them apart is also great to remove the glue. However, the heat gun works more flawlessly. This is why a lot of people tend to do this trick. It takes less time for everyone to do so.
2. Use Scrapping Tools
Putty knife or other scrapping tools are also recommended as vinyl tile removal tools. They are working very well to separate the floor of concrete from the vinyl surface, basically. You should do this very carefully. Then you need to make sure the old floor is completely scraped off by the end of the day and before the new layer of vinyl is laid on.
3. Cut the Tiles into Pieces
Cutting the old floor into pieces is probably one of the best solutions. When it comes to removing glued down vinyl flooring on concrete, people tend to rip apart the old flooring using the utility knife first. That way, the vinyl is going to be easier to lift and peel off. Make sure you will no longer use the old floorings before ripping them apart.
4. Use the Glue Stripper
If you have any difficulties removing glues or any attaching material on the floor, a glue stripper is probably the best idea here. The glue will help the floor to detach from the surface on it, in this case, the vinyl. In addition, you can remove the floor later on with no effort at all.
Those tricks are surely working for some cases. The flooring needs a replacement for some reasons, and before doing so, you should remove the old flooring first. It is possible to do that on your own, but it is better to call up for professional help when it is becoming too much to handle. Well, they know exactly what to do when it comes to how to remove vinyl floor tiles from concrete.