White Rodgers is one of the most acclaimed thermostat brands in the market. It has been a part of the Emerson Electrical Company producing thermostats since 75 years ago.
The White Rodgers brand offers many thermostats that can be programmed from the traditional and digital advanced units.
Nowadays, digital thermostats have become popular. They enable the user to set a programmed time for the cooling and heating temperature and make the house always perfect. The problem is, how to program the White Rodgers thermostat?
How to Program White Rodgers Thermostat
Many people are confused about programming the White Rodgers digital thermostat, especially for the new users. The programming process of a thermostat unit from White Rodgers is quite simple when you get used to it.
Read also: How to Replace the White Rodgers Thermostat Battery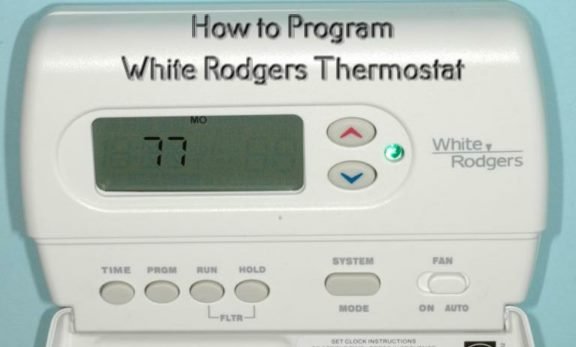 Furthermore, once the thermostat is programmed, this unit is very accurately designed and adequate to control the air temperature according to the settings at different periods of time as already programmed by the user. Let's start the process of how to program White Rodgers thermostat.
Time Setting
First, find the "set time" button and press it, and the time will be shown on the screen. Then, get the right hour, find the arrow buttons for up and down, and press them. Afterward, press the "set time" button again to set the time until the minutes are shown.
Do use the up and down keys to set the right time in minutes, and press the "set time" once again. Last, press the "run" key to save the programmed time.
Temperatures Setting
Based on the reference, switch the system to heat or cold. Then, select the view program key. To set the needed temperature, use the up or down buttons. To set time, follow the manual above to set the time. Press the set time key again to return to the temperature option.

Once again, select the view program and repeat the step from the beginning to set up the next program. To finalize, press the run program button.

Read also: White Rodgers Thermostat Troubleshooting

Now, you already know how to program a digital thermostat. But what about the White Rodgers thermostat turn-off program? Just press 3 buttons altogether (time, up and down, and temperature buttons).

Hold them up for several seconds and release them. Then, the time will no longer be displayed, and you already returned to the manual setting.

Like any other home appliances, White Rodgers' thermostats are also prone to many issues, such as when the White Rodgers thermostat blinks cool. Still, the cooling system isn't working properly.

To solve the problem, turn off the indoor unit for about a minute. After 30 seconds, turn it on, and the light will also turn off. Wait for about ten minutes, then check if the outdoor unit has worked again. If it has, then the breaker is on a problem. If it hasn't, do call a professional to check your thermostat unit.

For new users of digital thermostats, setting up these advanced units might seem difficult. As long as the simple steps on how to program White Rodgers thermostat above, everything will be much more convenient.

Related keywords :
what do the lights on a white- Rodgers thermostat