A lot of people are curious about how long does flex seal last. But before you even decide to buy one, be sure that you know the basic knowledge and fact about it. Yes, it is a part of the home improvement work but it is worth your spending? Are such claims are real and true?
What Is Flex Seal?
If you are wondering what a flex seal is, here is the basic description. It is a product sold in a spray can, claimed to be useful and handy enough to cover holes and leaks, providing instant fix. Unlike other sealant that usually comes in the form of rubber or solid material, it is the liquid sealant kept within the spray can. It sounds like a ideal way to proof your home, right? The problem is, does such thing really work? With such a good-to-be-true claim, it is a real thing or is it only a scam.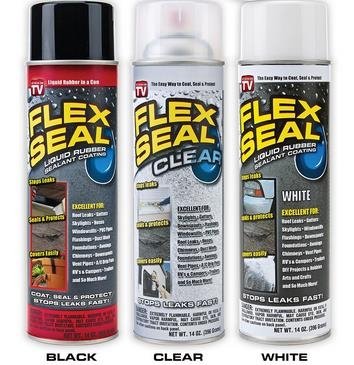 Whereas the most common sealants are coming in the rubberized or dry form, this one comes in a liquid spray – and it is heavily marketed on TV. Because it is liquid, it is claimed to reach difficult spots easily. And because it is coming in the spray form, it doesn't require any special skill, right? You only need to spray and your problem will go away – whether it is a hole, a leak, or anything that can cause further issue. It would be easier if things are just that easy, but that's not always the case, right?
How the Spray Works
Forget about the idea of how long does flex seal last and get to the idea of how this sealant works. According to the claim, you only need to spray a hole or a leak, and let it dry. Since it is in the form of rubberized liquid, it will get hard after it dries off, providing a perfect sealant so the leak or hole can be covered completely. And the cool thing about this spray is the waterproof feature and its resistance toward almost anything, like weather. Sounds like a great technology, you may think. Unfortunately, the real science isn't that easy.
Using the sealant is pretty easy, really. How long does flex seal last? Well, the claim states that it should last for years, resistant toward any weather condition, especially water. If you are about to use it, you need to clean and prepare the surface first. Shake the can quite hard and press on the nozzle to let out the liquid. Apply and cover the area steadily. Apply several thin coats so it will cover the entire area. Wait for around 24 hours to let it dry.
Does flex seal work on concrete? Absolutely. It works for wood, concrete, glass, and any wet surface, including the bathroom. You only need to make sure that each surface is thoroughly cleaned and prepared so the sealant will work. However, don't cross your fingers too hard and expect too much, especially when it is often exposed to many elements. Now that you already know the fact about how long does flex seal last, you shouldn't depend too much on it. Incoming from Google :
how long does flex seal last,how long does tile sear last,how long does flex seal usually last,how long does flexseal last,how long before you can recoat flex seal