Suppose you are looking for any information on Atwood 6 Gallon Water Heater Troubleshooting. In that case, chances are you either encounter an issue with your water heater, or you are considering buying one of these incredible pieces of equipment. You would like to know every single thing about the water heater.
Those who have never purchased an Atwood 6-gallon water heater may question how a water heater can be considered "an incredible piece" when the reason these people are here in the first place is to get something to help them troubleshoot their water heater.
While it's true that these people are here for the troubleshooting help, which indicated they are having troubles with their water heater, it doesn't change the fact that Atwood is still one of the best fast-recovery foam-insulated water heaters on the market. One thing for sure, Atwood water heaters have been leading the market when it comes to water heaters made for recreation vehicles.
Not only compatible for 5th wheeled vehicles, but this water heater brand is also compatible with many other types of recreation vehicles such as motor homes and travel trailers.
Atwood 6-gallon water heater unit is pre-set at a temperature 140-degree Fahrenheit, which is adjustable from 110 to 150-degree Fahrenheit; this unit is operated on propane gas and can only be ignited inside of the trailer using an on/off remote switch.
Read also : Atwood GC6AA-10E Water Heater Troubleshooting
Common problem: water heater lockout
When the spark is present, but there's no gas, chances are the issue is caused by incorrect gas pressure. Set your inlet pressure at 11"W.C. with a minimum of two gas appliances running at the time. If you sense it's due to low voltage, adjust the power supply to that of 10.5VDC. Other possibilities are listed as follows:
Main-burner tube is blocked – solution: thoroughly clean up the burner tube.
E.C.O. wires or wires on solenoid valve are loose – solution: properly secure the wire connections
No gas flowing to the solenoid valve – solution: correct the gas supply
The following is when it's the other way around: there is, but the spark is not present.
The electrodes which are attached to the main burner are loose – solution: properly secure the electrodes.
Improper gapping of the electrodes – solution: reposition your spark gap to that of 1/8-inch and make sure it's into the flame path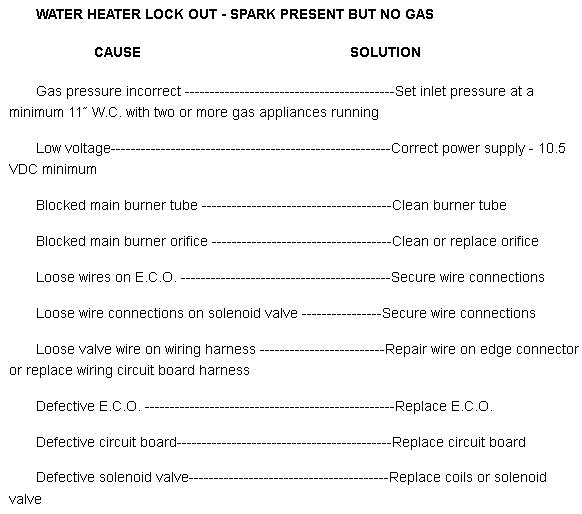 Common problem: Erratic sooting
Check the gas pressure. If it's low, set your inlet pressure at least 11"W.C., and in case of improper air, adjust your main burner's air shutter to at least ¼ way opened. Keep in mind that the flame should be quiet and blue.