Duromax XP4400EH generator is certainly one of the best generator products from Duromax. This generator is a dual-fuel generator ensuring a great performance. This generator is known for its compact, ergonomic design and also for its durability.
When you buy this generator, you will get so many additional accessories for free including the very handy wheel kit. This wheel kit is going to be beneficial to carry the generator during outdoor usages such as traveling and camping trips.
If you are interested in this generator, below you will read the Duromax XP4400EH reviews to help you with the decision when you want to buy this generator someday.
The Running Wattage and Starting Wattage
Producing power is the main point of a generator. This Duromax generator is just the best for it. With this generator, you can get more than 3,500 running watts. It is certainly more than enough to power and run numerous tools, electronics, and appliances easily.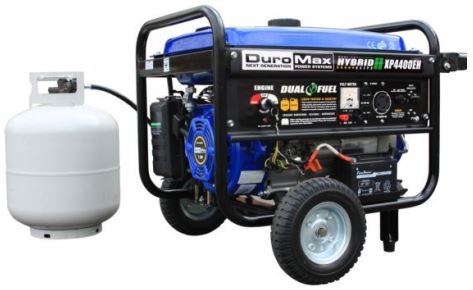 There will be no problem at all in operating multiple tools with one single generator because basically this Duromax generator is capable to power many of them. As for the starting wattage of this generator, the number is 4400 watts. Once plugged into this generator, many appliances can be powered at the same time. It is surely efficient because you do not need to turn on the generator multiple times in one usage.
Engine Capacity and Fuel Tank Size
This generator use an amazing kind of engine. The engine is very strong and durable. The engine is capable to produce 7 HP (horsepower) which is more than enough for sure for average generator usage. Beside of that, this generator also has massive fuel tank size. It has four-gallons gas tank which is great to operate this generator for a long time without having to refuel frequently.
The tank is in simple shape and completed by fuel gauge indicators so that you can see the level of the fuel easily. This generator is a hybrid one so that beside fuel or gas, you can also run it with propane. The flexible connection and the switch is usable to swap the power.
Run Time, Starting Method, and Operation
Basically, using this generator is very easy, simple, and beneficial. The running time of this generator, with full tank of gas, can reach up to 20 hours. Beside of that, the power will remain stable throughout the time so that you will not experience any discomfort when operating this generator.
This generator is also completed by easy starting method. With an electric start, this generator is capable to lift up the engine in one push of a button away. This generator also has great operator especially in noise production. This generator is a quiet one that it does not produce almost no sound at all. For more detail about this product, ypu can also check duromax xp4400eh owners manual.
It will make you free from annoying buzzing noise throughout the operation, for more consideration maybe you want to know who makes Duromax generators. This is the reason why Duromax XP4400EH generator is one of the best generators in its class.