It is not entirely an impossible scenario: to have crank up your AC unit but still have the temperature in your house not cooled down. In case this issue happened, it's the best to check if your thermostat is working properly or not. Learn how to reset Trane thermostat below if indeed the device is your source of the problem.
How to Reset Trane Thermostat Manually in a Simple Way
Most thermostats nowadays are designed to be reliable and durable, but it doesn't eliminate the possibility of getting them broke down.  Resetting your Trane touchscreen thermostat manually or digitally is the simplest way to tackle various issues.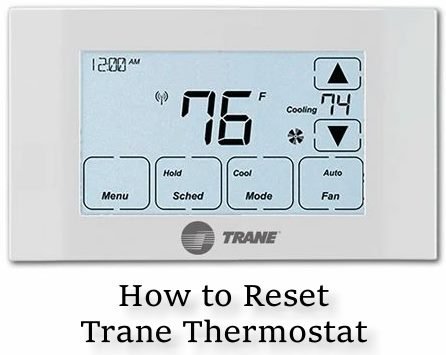 Read and follow the steps below to do so:
Turn the thermostat device off.
Before you turn off the thermostat, make sure that you've already switched off the related electronic appliances such as the AC. It is important to make sure the work won't bring you any harm.
Search for the box of circuit breaker
To fix the air conditioner, you have to find the circuit breaker and this unit's control. Most houses have their box of circuit breakers placed in the basement. Others might have it in the crawl spaces or closets.
Reset your circuit breaker
The next step on how to reset the Trane thermostat is actually to reset the circuit breaker. Look for the AC unit label in the circuit control. Once you find it, flip it to the "off" position, then make sure that the equipment is really turned off.
Wait for a minute
In general, half a minute of wait will do – but waiting for a whole minute might be a safer and more effective option. After a minute passed by, flip the AC unit's circuit breaker to "on" position back.
Turn your Trane thermostat "on" again
After the air conditioning unit circuit breaker has been reset, it is time to test the thermostat. Make sure that it's still set to "off", then switch the thermostat back to "on" position carefully. After that, turn on your air conditioner to see if it's working properly.
Read Also : How to Reset Honeywell Thermostat
The guide above works for both older and newer thermostat models. However, if you want to learn specifically how to set old Trane thermostat, you can change the current settings simply by using directional buttons. The temperature that you set will remain that way until you change it in the future. To cancel the setting changes, press "Run Schedule" on the bottom left part.

To remove the entire schedule set on the device, press "Hold" button near the directional buttons. It lets you manually operate the thermostat for a certain time period. Thus the temperature will be maintained at your desired temperature. Once again, to go into schedule mode back, press "Run Schedule" on the menu options.

Sometimes, after you've done the steps in the guide on how to reset Trane thermostat, your Trane thermostat says waiting, which is totally normal. It just means that the device needs time before the compressor is restarting to avoid damage. It can be anywhere from several seconds to a few minutes.

Related keywords :
how do you reset a thermostat